New Covid-19 Measures
We've introduced new COVID-19 measures across the Nursery and Pre-School as we reopen.
Adventure Valley Day Nursery has always encouraged children to learn through play, with daily supervised visits to the farm animals and plenty of fresh air.
We want to share with you the measures that we at Adventure Valley Day Nursery are implementing in line with Government guidance.
What measures we are taking to minimise the risk of infection and keep your child safe:
All visitors/parents to the setting will be asked to wear a face mask. Staff will be wearing face masks on drop off and collection of children.
Temperature checks of all staff and children will be taken on arrival to the setting and handwashing will take place on entry as well as throughout the day.
All staff will receive up to date training in managing infection control and preventing the risk of Coronavirus.
We will have an enhanced cleaning schedule to ensure that all equipment and resources are cleaned regularly including reception areas, touch points and bathroom areas.
If a child or staff member becomes unwell with symptoms of Covid-19 they will be sent home and asked to obtain a PCR in line with the government guidelines.
We are using a fogging machine in our childcare rooms that will provide a further level of infection control against Coronavirus.
Our staff are testing twice a week, using Lateral flow tests.
What can parents do to help minimise the risk of infection and keep their child safe:
We ask that only parents and children who are symptom free attend the setting, If your child or someone in your household displays any symptoms of Coronavirus please stay at home and obtain a PCR in line with the government guidelines.
We ask that parents wear a face mask on drop off and collection times as well as during settling in sessions.
Please can we ask that where possible only 1 parent is to drop off and collect your child to support with social distancing inside the setting.
For more information or to discuss your child's return to Nursery or Pre-School, please contact your Nursery Manager.
If you wish to enquire about joining our Day Nursery, contact us here.
About Us
Adventure Valley Day Nursery & Pre-School is all about giving your child the very best early years education within a countryside environment.
Working in partnership with leading childcare provider Kids Play Childcare, children will enjoy a brand new Nursery and Pre-School building, with private Nursery gardens and daily supervised visits to Adventure Valley.
Meet Our Nursery Manager
Hello, my name is Julie Norton and I am the Nursery Manager at Adventure Valley Day Nursery & Pre-School. I have worked in childcare for almost 20 years, and hold a BA Hons in Early Childhood Studies and a NNEB Diploma in Childcare.
I take pride in building those early relationships with both children and parents and love to see children at my nursery grow and devlop each day.
Being the Nursery Manager at this fantastic new setting brings me a lot of joy, seeing children learn through nature-based play including taking daily visits to the farmyard animals is a very unique experience for all.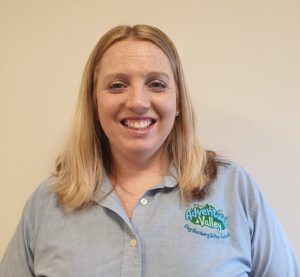 A Modern Day Nursery
Daily supervised visits to Adventure Valley
Private gardens with free flow access from all rooms
Ofsted Registered Childcare
Stimulating and educational play
Qualified and experienced staff
Freshly prepared healthy meals cooked on site
Nappies, nappy cream and wipes supplied
Free milk for babies
Teaching following EYFS framework
2, 3 and 4 year old funded sessions available, which includes 30 hours
Childcare vouchers and tax free childcare accepted
Out-of-Hours Showrounds – Weekdays
See the Nursery and Pre-School for yourself with a personal tour with our Nursery Manager. Set times will be allocated for out-of-hours tours daily and you can register your interest by filling out this form
Download Our eBook on Tax Free Childcare
Are you eligible for Tax Free Childcare?
Download our free eBook, telling you how the scheme can benefit you, who it is available to, can the scheme be used with others and how you can check your eligibility.